Encanto Pops - Eclipse Pop
On August 21, 2017, we were treated to the first total solar eclipse in the USA in nearly 40 years. The problem? Most people didn't know how to watch the eclipse safely. And in Encanto's hometown of Dallas, people didn't know where to watch it comfortably in 100-degree weather.
So we treated them to a once-in-a-lifetime popsicle and an unforgettable eclipse-watching experience.
​​​​​​​
We partnered up with our client to create a new flavor specially for the occasion: passion fruit-mango, partially eclipsed in dark chocolate.
And designed the package to double as an eclipse pinhole projector.
We created a website to educate people on safe eclipse-viewing practices.
And invited the people of Dallas to come join us and watch the eclipse at Encanto Pops.
We launched a teaser video to build anticipation.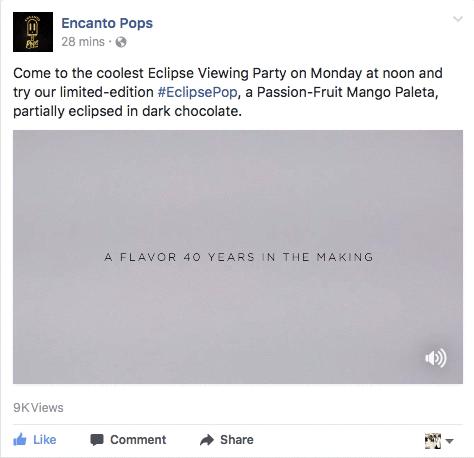 And curated an eclipse-inspired Spotify playlist to help people get in the mood.
On Eclipse Day, we treated Dallas to the tastiest eclipse-watching party in town.
The Eclipse Pop sold out in under 30 minutes. During that time, sales increased by six times the normal amount, and the people of Dallas were treated to a cold, delicious popsicle and a safe eclipse-watching experience they won't soon forget.
Art Director: Lucho Sanchez, Ken Cao
Copywriter: Carlos Castro, Sam Malone
​​​​​​​
Creative Director: Rodrigo Maycotte